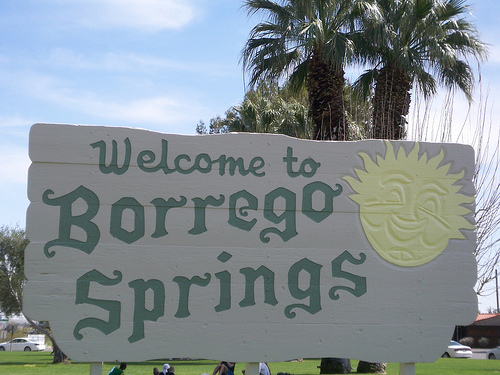 Art, Culture and Community
Come Experience Our Painted Desert
Dramatic sunsets. Majestic mountain vistas. Unexpected bursts of color. It is these kinds of things that have always inspired man to record his surroundings. It should therefore be no surprise that Borrego Springs is home to a thriving artists community.
Whether you're a recreational gallery-hopper or a serious collector, here you'll find everything from local crafts to fine paintings and sculpture. Here too you will find the performing arts, education and community service opportunities.
ART GALLERIES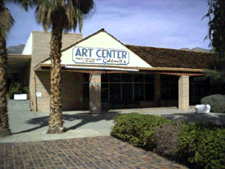 Caldwell's
Borrego Art Center
www.borregoart.com
P.O. Box 876
Borrego Springs, CA. 92004
888.271.5849    760.767.3990
Fax 760.767.3300
Located at Suite 540 in THE MALL. Featuring desert and southwestern art by well-known artists - Marjorie Reed, William Bartko, Armand Vallee, Andre Blanche - and local artists.  The Art Center is the official Internet marketing representative of the annual "Circle of Art" poster competition.
---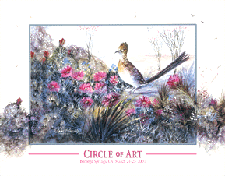 Circle of Art Posters
www.circle-of-art.org
760.767.3300  888.271.5849
Fax: 760.767.3300
Milt@borregoart.com
Each year an artist is selected to do a desert theme poster painting for the CIRCLE OF ART show. Eight different posters may be ordered.
---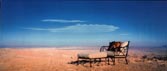 Ellis and Samuels
540-A Palm Canyon Drive
Borrego Springs   92004
760.767.9945
ellisandsamuel@aol.com
---
Liesel's Art Studio & Gallery
www.lieselsart.com
590 Palm Canyon Dr Ste 207
PO Box 2469
Borrego Springs CA 92004-2469
760-767-0415
lieselsart@cableusa.com
---
ARTISTS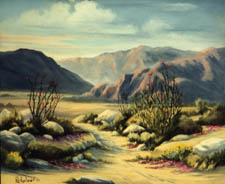 Ron Egeland / BFA
P.O. Box 1295
Borrego Springs CA 92004
760.767.4704
sonja@znet.com 
 
Desert landscapes in oil. A realistic approach to oil painting with a flair for personal expression & creativity.
---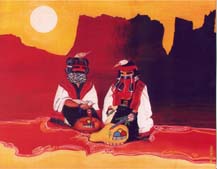 Liesel Paris Art Studio
www.lieselsart.com
590 Palm Canyon Dr Suite 207
P.0. Box 2469
Borrego Springs, CA 92004
760-767-0415
fax: 760-767-6473
lieselsart@cableusa.com
Fine Art and Crafts
---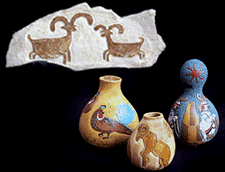 Steve Zirblis
3100-Y West Hwy 86
Thermal, CA. 92274
760.395.7608
dps@saltonpseas.com 
Bas-relief sculpture on sandstone concretions, natural gourds & bronze sculpture; decorative finishes convey a feeling of the Borrego Valley and its wildlife & early native peoples.
---
ART SHOWS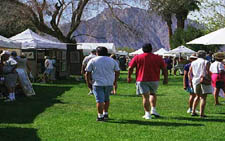 Circle of Art
www.circle-of-art.org
P.O. Box 1914
Borrego Springs, CA. 92004
Ph/Fax 760.767.7498
dstang@adnc.com
The Circle is an art show and sale held annually in March on Christmas Circle. We are a part of BASIC (Basic Assistance for Students in the Community) and the funds raised from the sale go to support educational scholarships.
---
EDUCATION

Anza-Borrego Foundation
www.theabf.org
595 Palm Canyon Drive, Ste. A
PO Box 2001
Borrego Springs, CA 92004
760-767- 0446 / 4063
info@theabf.org
We offer diverse educational and research opportunities ranging from 5th grade environmental education camps and adult field programs to graduate study scholarships. Our goal is to inspire people to value, learn about, and conserve the environment, by promoting education, interpretation, and research of the natural and cultural resources of the greater Anza-Borrego Desert region.  For a complete listing of our programs, please visit our website at www.theabf.org
---
Borrego Springs Unified School District
1315 Palm Canyon Dr.
Borrego Springs, CA 92004
760-767-5357
shahn@bsusd.k12.ca.us
---
College of Borrego Foundation/Palomar College
585 Palm Canyon Dr. Suite A (Upstairs)
Borrego Springs, CA 92004
760-767-4525
Lwilderson@palomar.edu
We coordinate and sponsor workshops and classes of higher education in cooperation with Palomar College. Our purpose is to advance education and culture for our citizens.
---